Amateur Radio is not a replacement for Public Safety or governmental agencies, but acts to serve Public Safety and non-governmental organizations in a subordinate capacity. ARES/REACES enables Public Safety agencies to focus on their primary role by freeing them from tasks that do not fall within their daily mission. Amateur Radio is also well-suited to provide a communications infrastructure, which can be used as a replacement for failed public communications systems.
The Bonner County ARES is composed of FCC licensed amateur radio operators who are trained emergency communicators. We volunteer our personal time, skill, and equipment if requested by a Served Agency, national, state, or local Emergency Manager. We will endeavor to supplement, extend or replace impacted commercial or government communications systems in an emergency or public service situation. We will use our own, served agency, or government-provided, amateur radio equipment and systems. If you would like to volunteer to be part of Idaho ARES, please complete the registration form at https://www.idahoares.info/___register.php. There are no fees to join.
You may also wish to join our local ham radio club, the Bonner County Amateur Radio Club (BCARC), who meets monthly in Sandpoint. Details can be found at http://k7jep.org/.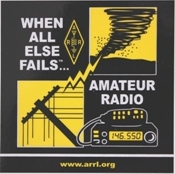 ARES: Amateur Radio Emergency Service
The Amateur Radio Emergency Service® (ARES®) is a volunteer radio communications service that is a program of the Amateur Radio Relay League (ARRL) and consists of licensed radio amateurs who have voluntarily registered with their local ARES leadership for communications duty in the public service when disaster strikes. ARES is available to support federal, state, county and local government agencies, as well as non-government organizations in need of communications support such as Red Cross, faith based or other community organizations supporting the public in time of need.
Every licensed amateur regardless of membership in ARRL or any other local or national organization, is eligible for membership in ARES. The only qualification, other than possession of an Amateur Radio license, is a sincere desire to serve. Because ARES is an amateur radio service, only FCC licensed amateurs are eligible for membership. At the local level our primary task is to provide emergency communications. Our training is focused on disaster preparedness and public service. ARES can also provide communications for public service events such as fun runs, community parades, fairs and other public events needing communications.
Click here to see the Wikipedia article for ARES.
RACES: Radio Amateur Civil Emergency Service
The Radio Amateur Civil Emergency Service (RACES) was created in 1952 by the Federal Emergency Management Agency (FEMA) and the Federal Communications Commission (FCC) – (FCC Rules Part 97, Section 407 RACES) for the purpose of providing emergency communications. If the President ever invokes the War Powers Act, RACES will be the only amateur radio operators allowed to operate within the US. This has not happened since WWII.
RACES volunteers provide direct communication support to county, state and federal government agencies. Volunteers are required to be registered with the county and state Departments of Emergency Management and are required to take both ICS and other forms of training. More information on training can be found on our training page.
Click here to see the Wikipedia article for RACES.